Vishal Shinde :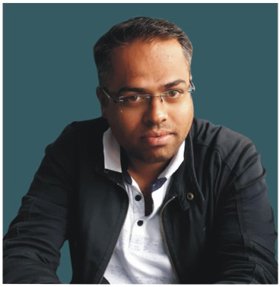 Vishal Shinde born and brought up in aundh, Pune
His passion from early days was to simply draw, sketch & paint.
After SSC he joined GD Art Diploma in Abhinav Kala Mahavidyalaya.
Vishal further completed Graphic Designing and started his Advertising Agency.
He successfully ran web designing firm Websource and made 80 local websites.
Vishal realized the need to take Digital learning and graduated in 2D animation.
He is a founder member of  Dnyankranti Shaikshanik va Samajik Sanstha and took active role in Organising Kaya Natya Karandak for past 12 years and continues this passionately till today.
2001 he taught his first student Atman Mehta in aundh. Between 2001 to 2003 more than 80 students were trained and tutored by him. Vishal launched his Drawing & Painting school in 2001 and formally registered it under the current day Brand Grafiti Arts Institute in august 2006. It was his dream to have his venture share the same birthday as his ownJ Vishal's life partner Sheetal Ware-Shinde is the first founding Drawing & Arts teacher at Grafiti. Today Mrs. Sheetal Shinde looks after the entire administrative aspects of Grafiti which spans across 8 centres in Pune.
Vishal is a very passionate Arts aficionada about Drawing and Arts space which took him to dedicate his entire time and grow his brand Grafiti Expressions. Vishal has some very ambitious plans to train over 20,000 students under Grafiti Expressions and his passion and drive will make this a reality very soon.