Portrait Pencil Sketching Services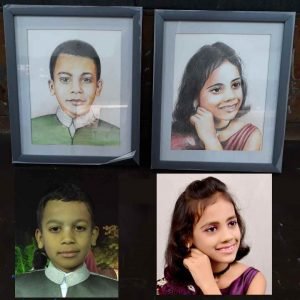 GIFT YOUR FRIENDS, RELATIVES AND NEAR AND ONES WITH THEIR PENCIL SKETCH, REALISTIC PORTRAIT. MADE BY AN ARTIST WITH 12 YEARS OF EXPERIENCE AT VERY ECONOMICAL PRICES.
Portrait Colour Sketch & Portrait Black & White sketch
We have brought new concept of GIFT a PENCIL SKETCH. We made pencil sketch from photographs and its artistic gift is ready for you. We gift our love ones on their birthdays, anniversaries and other occasion so here is new option for you. When your spouse, sister, brother and friends see their sketch they will be happy. This is such wonderful gifts for them.
Black & white pencil sketch 900/- to 3500/-
Colour pencil portrait. 1500/- to 6000/-
Capitalizing on the ability of our well-trained workforce, we are engaged in providing world-class Pencil Sketching Service. A team of well-trained staffs is offering these services as per the thorough demands of our clients. We believe in offering precise solution of client's needs and assist them accordingly.
Acrylic or oil on canvas painting minimum 9000/-
By understanding the demands of our client in the best possible way, we are increasingly engrossed in offering Portrait Painting Service to our clients. Delivered in tune with the standards defined by the industry, these services are enormously in demand. Due to their cost effectiveness, these provided services are hugely treasured.